In Docview Studio you can quickly and clearly see the verification results of identity documents.
The collected information can be used directly for identification, authentication, verification and registration applications.
NFC Chip Content
Check the contents of the NFC Chip
The NFC Chip of a document is secured in various ways. For example, access to the chip takes place, optionally, via different security levels.
Check the Authenticity
Is the physical document authentic
Everything starts with the physical document. That is why it is important to be sure that you are dealing with an authentic document.
Cross-check information
Compare information sources
Cross-checking compares different sources on and on the document that should contain the same data.
Comparison of the visual and chip information
Both legible and passport photos can be checked.
An identity document contains visual (printed on the document) and digital information (in the NFC chip). An example of this is the MRZ (Machine Readable Zone) which you recognize as the lines of text, usually at the bottom of the document.
Docview Studio compares the visual MRZ with the digital MRZ. In addition, the format and length are checked and the check numbers are verified.
Docview Studio can also use the FACE Add-on to compare the passport photo on the document with the color photo included in the NFC chip, in order to prevent first-line forgeries.
Various checks of the NFC Chip data
The first check of the NFC chip takes place even before reading
The initial verfication of the MRZ is required to set up a secure and encrypted connection with the NFC chip.
Security and encryption takes place through different mechanisms. Different data groups also require different levels of security and encryption.
Once it is readable, there are mechanisms such as Passive Authentication and Active Authentication. These respectively validate the stored data groups via hashing and potentially detect cloned chips via a private key mechanism.
Docview Studio gives you detailed feedback and information about the progress and the results.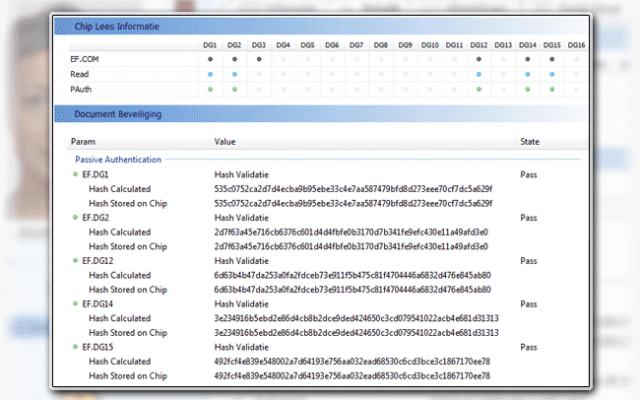 Check Country Signing Certification Authority
The CSCA Certificate is the anchor in the chain of trust
Each country that issues a passport, ID card or driver's license with an NFC Chip establishes one country certification authority (CSCA) as a national point of trust in the context of ID proofs.
CSCA certificates are generated by the CSCA. As an anchor in the chain of trust, CSCA certificates are often exchanged to ensure maximum security and trust in the rest of the chain.
Docview Studio checks the CSCA Certificate as part of the extensive checks.