Since 2010, SCANID has been supplying age scanners and software for age verification based on identity documents, such as passports, visas, ID cards and driver's licenses.
With thousands of age verification systems supplied, we know better than anyone what is needed for an adequate and rapid age verification based on identity documents.
Mobile Age Check
Quick and easy mobile determination of the age at access or on terraces of catering occasions, festivals and events
Fixed Setups
Total solutions consisting of ID readers and adequate software for locations where rapid age verification must take place on a daily basis.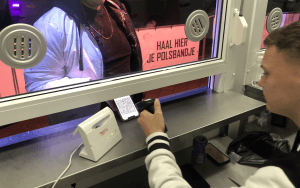 Hybrid Systems
Combinations of age verification with document verification, including query Cruks, Oasis and EPIS and comparison with tickets or Covid QR-Codes.
Millions of Age Checks
Our age verification systems are used daily for age verification in numerous situations and industries.
On the basis of ID Documents that comply with the ICAO-9303 standard, such as passports, ID cards, residence permits and modern driving licenses, the age is quickly calculated and displayed.
AGE CHECK
Age verification based on ID Documents is increasingly being used in the private sector.
Partly due to recent legislation, it is necessary to ensure that a customer is unmistakably 18 years old.
SMART SCAN MODE
Fast results with our unique "Smart Scan Mode" and reading QR-Code of modern driving licenses.
Where only the necessary steps required for age verification are performed.
AGE LIMITS
Set one or more age limits. For example, younger than 16 years, 16 or 17 years and 18 years and older.
Repeat SCAN DETECTION
Using the information obtained, it is checked whether documents are scanned repeatedly to prevent "passing".
New IDA-200 Swiss now Available for pre-ordering
The new IDA-200 Swiss stand-alone age verification system, developped on request, will be used by numerous organizations in Switzerland for age verification purposes at gas stations, events, festivals and catering.
The new IDA-200 Swiss supports ID Cards, Passports and Swiss driver's licenses.