The solution checks the information contained within the QR-Code, and delivers a visual feedback that the holder's Corona certificate is genuine and that they are vaccinated against or have tested negative for COVID-19.
The COVID Pass Verifier For Windows
CheckScan for Windows supports the European Digital COVID Certificate for the European Union member countries as well as Corona certificates like the Dutch CTB, Belgium Covid Safe Ticket, UK NHS Domestic Code and French 2D-Doc code / Pass Sanitiare. More certificates on request.
CheckScan for Windows read all passports, ID Cards and Visa's according to the ICAO 9303 standard, including Near ICAO and EU Drivers Licenses containing a NFC Chip.
The Solution makes a crossmatch between the COVID certificate holder and an ID document. When an ID document match is not required, our COVID Pass Scan solution for Windows can be used for authentication of the Corona Certificates.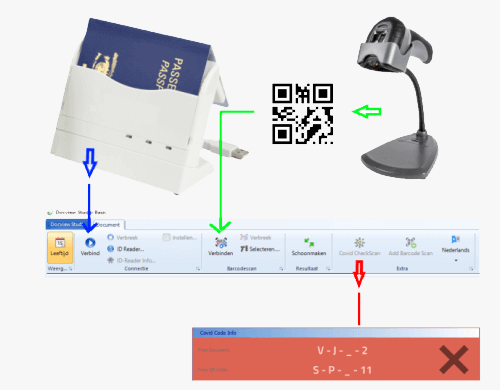 Typical Applications
Corporate/Enterprise for visitor or employee building access
Entertainment venues, sports stadia, concert venues and casinos
Hospitality, including hotels and wedding venues
Retail
Supply of Wristbands
Privacy
Our COVID Pass Verifier is AVG and GDPR-compliant, the data is only read for verification purposes and is never stored
More Information
For more information please email checkscan@scanid.nl